Justin Jordaan (PhD)
CEO, CSO & Founder
Justin is the lead inventor of the ReSyn technology, and former Research Group Leader. He currently leads the development of the ReSyn technology platform and currently fulfils two roles as CEO and CSO of ReSyn Biosciences. Justin has PhD in Biotechnology from Rhodes University, and is affiliated as a Research Associate at his alma mater. Justin loves to scuba dive, is an amateur cook and a bit of a foodie, particularly for artisanal street food, BBQ, beer and wine.
Isak is an inventor on the ReSyn technology patents and a former senior scientist at CSIR Biosciences, where he led the translation of the technology platform into the range of MagReSyn® products. As Chief Technology Officer he guides the development of new products from prototype to product, and is responsible for the stringent quality control standards for the product range. He has a PhD in biochemistry from the University of Johannesburg, loves the African bush, and as a hobby he breeds rare springbuck with unusual colouring.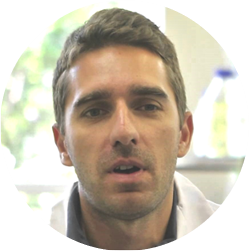 Stoyan Stoychev (PhD)
Head of Proteomics
Stoyan has a PhD in Structural Biology from the University of the Witwatersrand and is the former head of the mass spectrometry facility at CSIR Biosciences. He has a wealth of knowledge and experience in mass spectrometry and proteomics, assisting ReSyn Biosciences in developing new products and providing technical leadership for our range of tools for mass spectrometry sample preparation. Stoyan is an amateur motorbike track rider, with the pins and plates to prove it…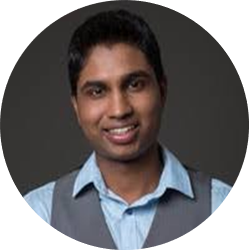 Previn Naicker (PhD)
Application Specialist
Previn finished his PhD in Biochemistry at the University of the Witwatersrand at the tender age of 23. The "wunderkind" works at the proteomics cancer screening platform established at CSIR Biosciences, and develops sample preparation workflows to isolate protein from various tissues. Previn is a foodie and enjoys long walks on the beach and drinking pina colada's…
Ireshyn Govender (PhD)
Application Specialist
Ireshyn recently completed his PhD in Biochemistry at University of the Witwatersrand, identifying biomarkers for kidney disease from clinical samples. Ireshyn is developing workflows for the isolation of proteins from dilute biological samples. He is a skilled "scielinist" (twitter handle) and is a beginner golfer (it's apparently never too late to start something new!).
Endorsements
"The HILIC method is fast, easy, and reliable. It is also far easier than FASP and less prone to contamination from PEG. I highly recommend it."
"We've been using MagReSyn HILIC beads as part of our peptide clean up step on dozens of projects over the last year. This easy-to-use method has given us another great tool for dealing with complex samples, particularly those that have been exposed to surfactants and detergents which would otherwise confound analyses. As with the other products we use from ReSyn, we've come to rely on it as a robust, reliable method for the wide range of projects we pursue as a core facility."
"Using MagReSyn-HILIC greatly improved the purity of our samples. I highly recommend it. It resulted in both better quality and reproducibility of our mass spec data."
"The product is consistent and provides an easy to use, efficient,
pure phospho-peptide enrichment platform."
"The performance of MagReSyn Ti02 was found to be significantly better in terms of selectivity and specificity for phosphopeptides when compared to a leading competitor"
TERMS AND CONDITIONS
Products supplied by ReSyn Biosciences (Pty) Ltd are for research purposes only. ReSyn products are not to be used for diagnostic, therapeutic or commercial means any use resulting in monetary gain, including, but not limited to, incorporation in a kit, repackaging and re-formulation. Please enquire about sub-licenses for commercial use.