ABRF 2020 in Palm Springs: Poster now available
Automate your pre-MS workflows! Olsen Lab using PAC and Ti-IMAC for automated HT phosphoproteomics
If you missed the Nature webinar by Prof. Jesper Olsen you can catch it HERE! 
Cancelled: ReSyn Bio will be exhibiting at US HUPO 2020 in Seattle
Unfortunately US HUPO at the Westin in Seattle was cancelled due to Corona virus concerns! Please click here for a copy of our poster presentation outlining the use of our products for automated MS sample preparation workflows to increase your throughput and expedite your research.
Posters from HUPO 2019 in Adelaide available now!
We are taking part in the MS-Pillar Phosphopeptide Challenge
ReSyn Biosciences has partnered through 2020 with HUPO to support the MS-Pillar Phosphopeptide challenge! HUPO members can join the challenge to achieve the highest possible sequence coverage of a standard phosphopeptide mixture using multiple purification schemes, analytical protocols and data processing strategies. Please contact us for more details.
ReSyn Biosciences is a consortium member of the BioCapture Network
BioCapture is a European Training Network (ETN) funded by the European Commission under the Horizon 2020 Marie Skłodowska-Curie Action. The network consists of 15 research groups, spread across 11 universities and institutes and 4 industrial partners in 6 different countries that have come together to train a new generation of chemists/phycisists/biologists through an EU-wide PhD training network. The main aim of this interdisciplinary project is to discover new and improved ways to diagnose and treat cancer. Read more HERE
ReSyn Biosciences wins New Product Award at SLAS 2015, Washington DC, USA
ReSyn Biosciences was awarded a prestigious New Product Award (NPA) at the Society for Lab Automation and Screening (SLAS) Conference and exhibition in Washington DC, Feb. 7-11, 2015. The designation was awarded for the entire MagReSyn® product range.
The NPA designation is bestowed to new products for the potential to impact the fields of automation, screening and drug discovery. Of the 296 companies exhibiting, 61 submitted products for consideration of an NPA award, with a total of four awards being conferred at the 2015 event.
Other companies receiving an award for their innovative products were Sony Corporation, regenHU, and BlueCatBio. Read the full press release HERE.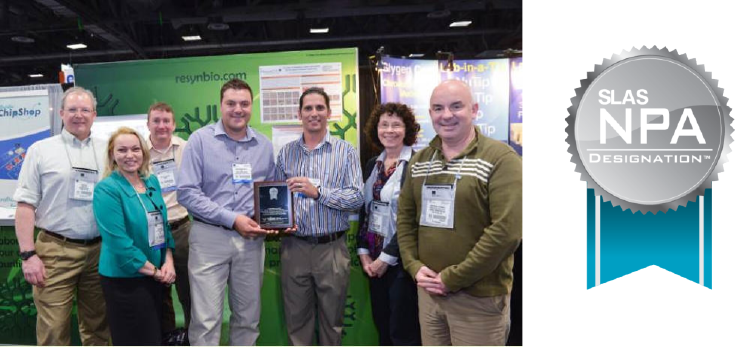 New product launched at ASMS 2017, Indianapolis: MagReSyn® HILIC
MagReSyn® HILIC provides a highly reproducible, unbiased and fully automatable solution for parallel protein sample clean-up prior to MS analysis. Please refer to our product page: MagReSyn® HILIC for product information and application notes.
New product launch: MagReSyn® Trypsin and Chymotrypsin
ReSyn has recently launched new high content, magnetically immobilized, trypsin and chymotrypsin for rapid, automated digestion of proteins for mass spectrometry sample preparation. Multipoint covalent attachment of the enzymes results in improved enzyme stability, resulting in retention of activity under denaturing sample conditions, e.g. urea and SDS (trypsin). The microparticles are best suited for automated digestion on magnetic handling stations, reducing variability in sample preparation, thereby improving reproducibility. For more information, please visit the MagReSyn® Trypsin and MagReSyn® Chymotrypsin Product Pages
ReSyn Biosciences' Justin Jordaan, PhD, CEO, CSO and Founder (center), Dr. Isak Gerber, CTO, with members of the New Product Award adjudication panel for the MagReSyn® product range.