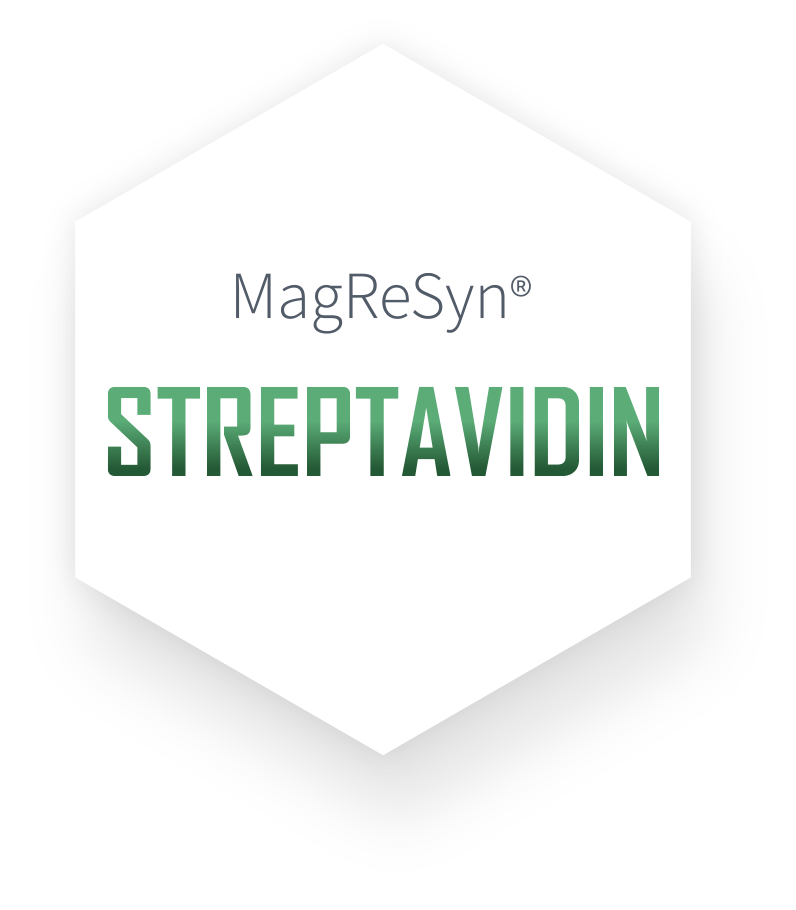 MagReSyn® Streptavidin
High capacity for capture of biotinylated molecules
MagReSyn® Streptavidin microparticles contain covalently coupled streptavidin. The porous nature of the polymer technology allows for exceptional streptavidin capacity, translating into increased capacity for the immobilization/capture of biotinylated biomolecules. The high streptavidin load allows the use of as little as 10 µl beads, improving experimental miniaturization for high-throughput automated analysis. Molecular applications of MagReSyn® Streptavidin microparticles include, protein immobilization and purification; nucleic acid capture assays and preparation of single-stranded DNA templates for e.g. SELEX and pyrosequencing. The immobilization of biotinylated antibodies may subsequently be used in e.g. immunoassay.
Support: Proprietary polymer microparticles containing iron oxide (magnetite) with immobilised Streptavidin
Binding capacity (DNA): > 30 000 pmoles.ml-1 (Biotinylated oligo, 25-mer)
Binding capacity (Protein): > 3 mg.ml-1 (Biotinylated IgG)
Bead size: ~5-10 µm average
Formulation: 10 mg.ml-1 suspension in sodium phosphate buffer
MagReSyn® Streptavidin MAX
Ultra-capacity for capture of biotinylated molecules
MagReSyn® Streptavidin MAX microparticles have been specially engineered for custom applications where maximum binding of biotinylated molecules is required. This includes microplate applications where miniaturization and high-throughput automated analysis are required. This product primarily targeted for oligo/peptide isolation, and it is not recommended for protein isolation due to possible steric hindrance with the high streptavidin load. 
Binding capacity (DNA): > 120 000 pmoles.ml-1 (Biotinylated oligo, 25-mer)
Bead size: ~5-10 µm
Formulation: 10 mg.ml-1 suspension in sodium phosphate buffer
* Please note that MagReSyn® Streptavidin MAX is a custom product with minimum 2 weeks lead time from date of order *
Streptavidin protein image courtesy of ebi.ac.uk accession number 5n8b, and used for illustration purposes only.
MagReSyn® Streptavidin Performance Superiority
Superior capacity
MagReSyn® Streptavidin
>

3 000 pmoles.mg

-1

 (Biotinylated oligo, 25-mer)

>

300 µg.mg

-1

 (Biotinylated IgG)
MagReSyn® Streptavidin MAX

High volumetric streptavidin loading allows unparalleled miniaturization and automation of experimentation
Exceptional Capacity
High capacity for biotinylated protein enables miniaturization of experimentation.
Exceptional Value
Bind in excess of

3000 µg biotinylated IgG compared to alternate products

Bind in excess of 60 000 pmoles biotinylated oligo per

product compared to 25 000 pmoles biotinylated oligo

per product for alternate products
MagReSyn® Streptavidin microparticles provide superior binding capacity for biotinylated oligos and protein compared to alternate suppliers. MagReSyn® Streptavidin MAX provides an high capacity for biotinylated oligo and protein binding for specialized applications. Green bars represent MagReSyn®, orange bars represent alternate suppliers products.
TERMS AND CONDITIONS
Products supplied by ReSyn Biosciences (Pty) Ltd are for research purposes only. ReSyn products are not to be used for diagnostic, therapeutic or commercial means any use resulting in monetary gain, including, but not limited to, incorporation in a kit, repackaging and re-formulation. Please enquire about sub-licenses for commercial use.
Protein kinase signalling at the Leishmania kinetochore captured by XL-BioID
–   Vincent Geoghegan et al.
Talin mechanosensitivity is modulated by a direct interaction with cyclin-dependent kinase-1
–   Rosemary E Gough et al.
The proximal proteome of 17 SARS-CoV-2 proteins links to disrupted antiviral signaling and host translation
–   Jordan M Meyers et al.
Identification of MAMP-Responsive Plasma Membrane-Associated Proteins in Arabidopsis thaliana Following Challenge with Different LPS Chemotypes from Xanthomonas campestris
–   Raeesa H. Hussan et al.
Biochemical Pulldown of mRNAs and Long Noncoding RNAs from Cellular Lysates Coupled with Mass Spectrometry to Identify Protein Binding Partners
–   Anca F. Savalescu et al.
Multiplexed Proximity Biotinylation Coupled to Mass Spectrometry for Defining Integrin Adhesion Complexes
–   Megan R. Chastney et al.
Topological features of integrin adhesion complexes revealed by multiplexed proximity biotinylation
–   Megan R. Chastney et al.
BioID based proteomic analysis of the Bid interactome identifies novel proteins involved in cell cycle dependent apoptotic priming
Immune genes are primed for robust transcription by proximal long noncoding RNAs located in nuclear compartments
–   Stephanie Fanucchi et al.
MagReSyn® Protein A, MagReSyn® Protein G, MagReSyn® Streptavidin
ADAP1 limits neonatal cardiomyocyte hypertrophy by reducing integrin cell surface expression
Scientific Reports 8 (2018)
Identification of lipopolysaccharide-interacting plasma membrane-type proteins in Arabidopsis thaliana
–   Cornelius Vilakazi et al.
Plant Physiology & Biochemistry (2017)
Effective immunotherapy of rat glioblastoma with prolonged intratumoral delivery of exogenous heat shock protein Hsp70
–   Maxim A. Shevtsiov et al.
Int. Journal of Cancer 135 (2014)